I just finished reading The Backyard Homestead and have to admit that I absolutely loved it. This book has to be one of the best small scale homesteading books available.
Here is some of the reasons I loved this book.
Super easy to navigate
Enough information to actually do things they talk about
Practical and do-able projects for any skill level

Great reference list in the back if you do need more detail (like a whole book on cider making)
It made learning easy
I learned about chickens, making cider, and planting/pruning grapes all in the same book. It was great to have all those resources in one book instead of 3. It was amazing how much I learned from one book!
What more can I say? This is a must have for all of you who dream of homesteading on any amount of land.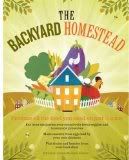 Have you read this book? What did you think?